The second make of the SewMyStyle Sewalong!
This time it was the Saunio Cardigan of Named Clothing. It is my first try with the Named patterns, and to be honest I am a bit intimidated by the patterns. They are very hip and have a lot of constructive details, and I always consider them out of my league (read: comfort zone).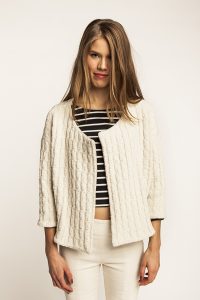 The same with the Saunio Cardigan: a short but boxy/ oversized cardigan. Very simple, and could be elegant with a thin, very long hipster girl who likes to play with her silhouet. Everything I am not 🙂
(#momcore of the non hipster kind is more me)
But I tried the Saunio Cardigan (a heck why not) and I was pleasantly surprised. It kinda suits me!
Woohoo!