I needed some structure and vision in my sewing journey. And apparently there were more like me (nope, i'm not a special snowflake): Seamwork Magazine came to the rescue!
They designed an 4 week program to help you plan your wardrobe. You can enroll twice a year and I decided to enter this February. It's free, but you have to be a Seamwork Member (active or paused membership, it doesn't matter)
Every workday for 4 weeks you get an email with dispatches, food for thought & worksheets. And step by step you getting closer to designing your wardrobe. That is a lovely result eh? But there is work to do. A lot.
There is a Design Your Wardrobe Facebook group and it totally took over my timeline. I loved it (because it all are very positive posts & all abouw sewing, what's not to love?) but when the course started and I couldn't start immediately, I got a bit overwhelmed with all the input the other students were giving.
That's SO much work.

Where do I find the time?

I'll never get there.
It almost became a mountain I didn't dare to start climbing.
But after 3 weeks, there was an evening with some time and some energy left. And voila, I started. And finished week 1 (in one evening. jep, you're reading it correctly)
HA!
So let me introduce my collection. I called it Hippy Momcore.
Suitable for work (hé, I am a creative, so I don't have to be suited up!), but also perfect for around & at home & at the playground with my kids .
And because you don't have to take yourself too serious all the time right?
ALL THE BASICS. Because, let's get real, I don't have many events to dress up for. I have my own bubble and I move around between our Studio Hamerhaai studio (which is a carpenter workplace so no high heels and other fancy stuff), our home, the playground, schoolyard and the balletlessons of my kids (and the occasional night out with friends, but these are my friends so I can just be me)
So let's make clothes for those occasions! And I want to be comfortable, because being around other people is uncomfortable enough already 😉
These clothes are nonchalant but still a bit stylish. And they give me secret superpower (because I made them). Just what I need to carry around, right?
My Moodboard: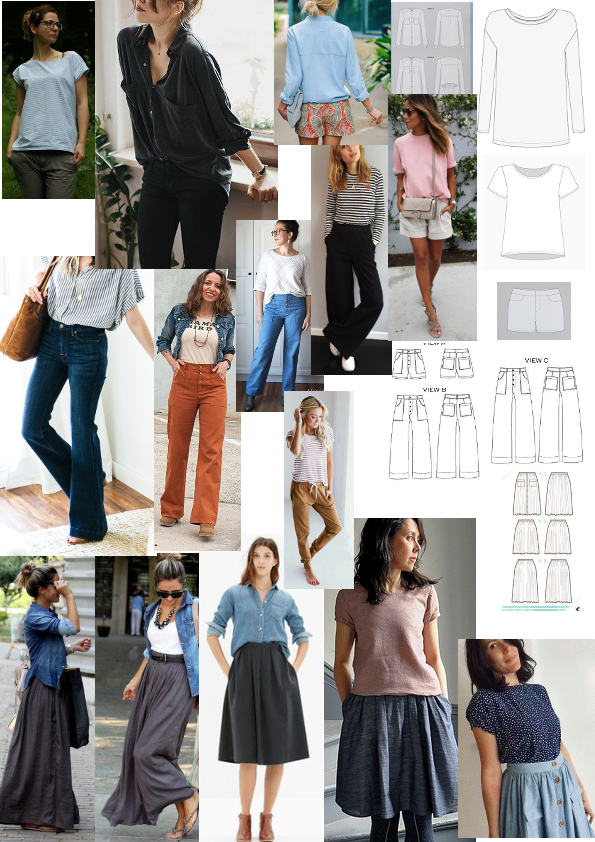 Loose & fitted silhouettes, flared pants, shorts or midi/long skirt.
Some patterns I would love to incorporate:
Hemlock tee, Scout tee, Archer Button up (all Grainline Studio) Ogden Cami (True Bias)
Landerpants (True Bias) / Birkin Flares (Baste + Gather), Maritime Shorts (Grainline Studio)
Zinnia skirt (Colette Patterns)
Next up: week 2. I need to shop my stash!
To be continued..